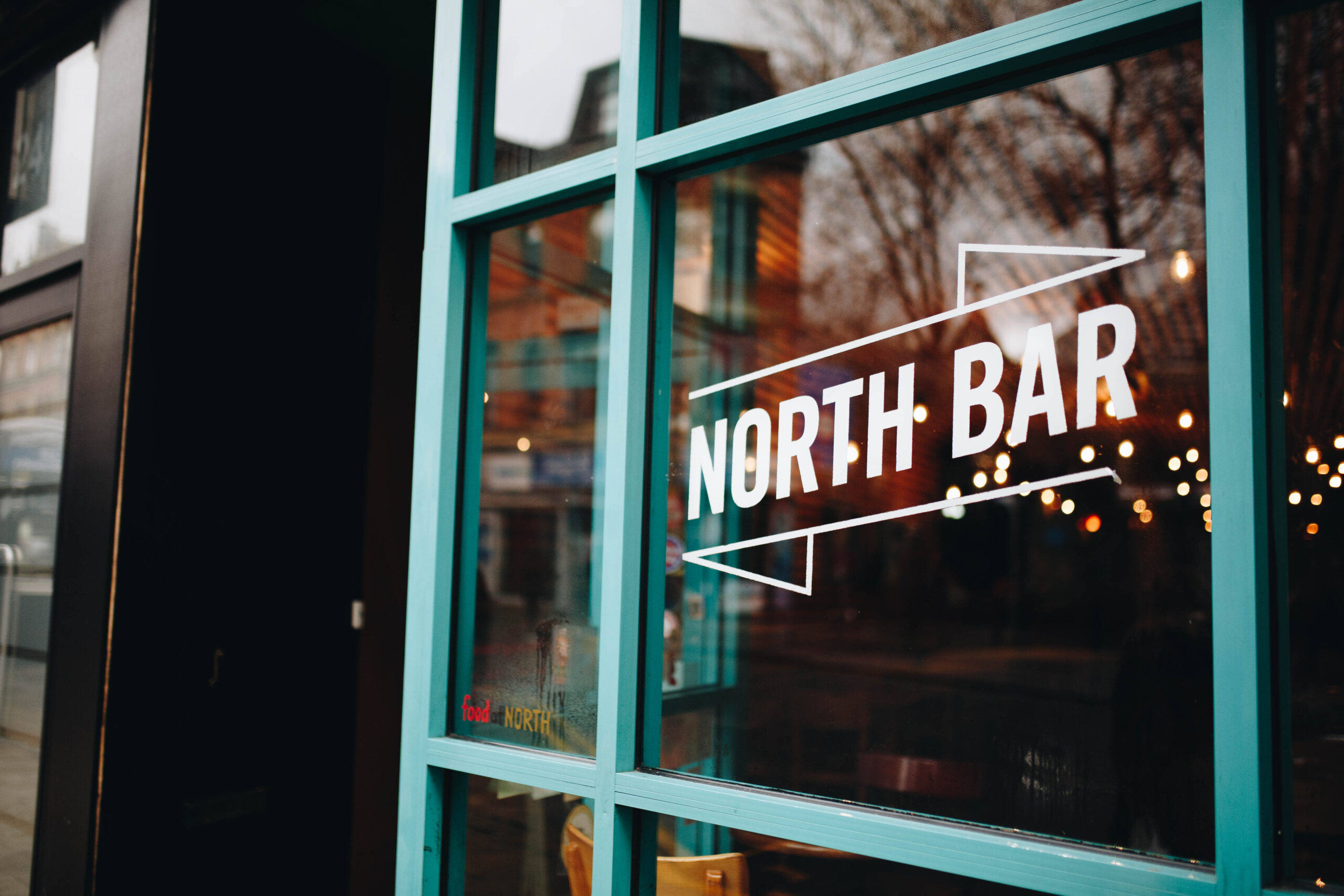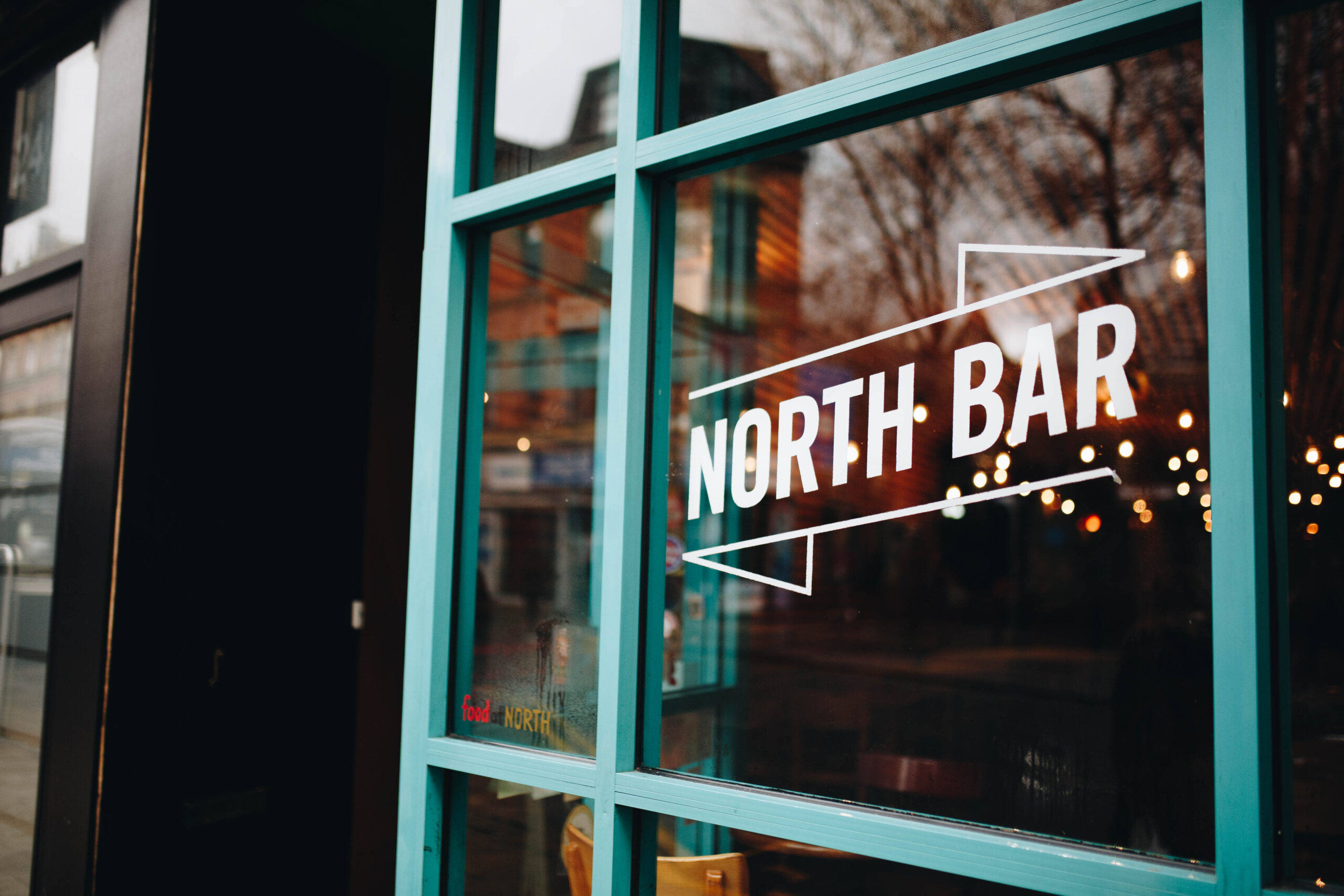 North Bar opened in Leeds in 1997. We took over a long, narrow unit on New Briggate and started building a bar. In the early days, the beer selection was much less adventurous. We sold Kronenbourg, Guinness and lots of Beamish Red. However, we started to build a reputation for brilliant service and great music in quirky surroundings. And the drinks selection quickly improved!
It was 1997. Amidst a landscape entirely devoid of independent, friendly bars with a focus on great service, two mates opened North Bar in Leeds. They got their glad rags on and spent every day and night for three months building what would become the first craft beer bar in the UK and arguably kick started the UK beer scene to become what it is today. There were around 500 breweries in the UK at the time and the giant 'anarchist' Scottish brewery wouldn't launch for another 10 years.

John and Christian were glass collectors at a gig venue in Leeds at the height of 90s Britpop. Dream jobs for two soon to be university drop outs. Picking up glasses to the tunes of Blur, Stone Roses, Suede, Primal Scream, Sleeper, The Bluetones, so many more… Inspired by the cool indie bars of his hometown Manchester, John dreamed of opening something more progressive in Leeds.
And so it started, with a £20k brewery loan and a tie to stock Kronenbourg 1664, Guinness and Fosters. What quickly followed was a reputation for brilliant service and great music in quirky/cool/minimalist surroundings.
Over time, Stumbling across Belgian classics like Orval, Chimay and Duvel and iconic German beers like Schneider Weiss opened their minds to what beer could be. What followed was a blossoming relationship with two Yorkshire based beer importers, James Clay and Vertical Drinks, and the bar became a launchpad for what are now household names in beer. A chance discovery of Anchor Liberty Ale was a technicolour moment in their learnings of American craft beer. Brooklyn, Sierra Nevada and Goose Island all started their European journey being launched in North Bar in Leeds as North became known as a 'craft beer' bar, a term not coined in the UK until the mid 2000s.
Following on to launch UK breweries like Magic Rock, North has played a pivotal role in inspiring others but above all being a space for like-minded, open-minded people including musicians, artists, beer afficionados, DJs, actors and the workers in the hospitality industry of Leeds.





North was a bit of a slow burner in the early days. John & Christian would sit in the window to make it look busy, then run behind the bar to serve when customers ventured in! Neighbours at The Grand Theatre made North their local – the show technicians started popping in after work, they told the musicians, who told the art students, who told their friends. They'd found their crowd.
Over the past 25 years North has grown its family of bars, opening cosy neighbourhood bars in the suburbs of Leeds, and modern, airy taprooms in the city centre. There was even a vintage ice cream van for a few years!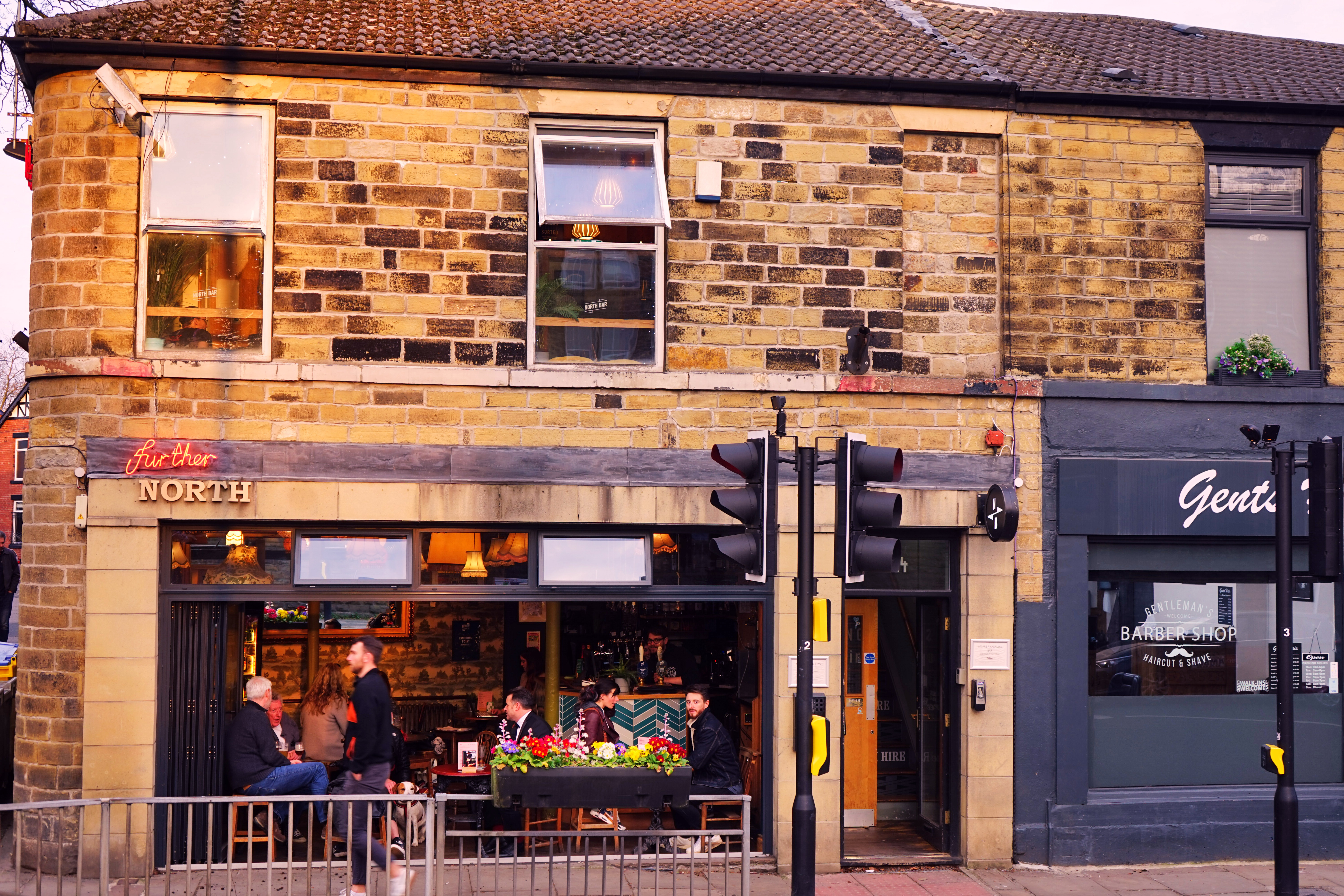 in 2015 north brewing co was born
A love for beer had them dreaming of opening a brewery, but time and money was spent on opening bars. Brewery talk continued and gathered momentum until they asked Steven if he wanted to join them to help make it happen. An old friend of over 30 years, Steven and John first met whilst working in a record store in Manchester in 1989. They'd often talked of working together and when asked if he wanted to open a brewery with them, it was an instant yes – who wouldn't want to open a brewery?!
There was one important part of the jigsaw left to find though. Seb was working as a music teacher, whilst cuckoo brewing on the side under the name Golden Owl and selling that beer out of the boot of his car! He was a regular at Alfred, our North's neighbourhood bar in Meanwood, and the staff had got wind of how good his beer was.
A few conversations later and Seb had quit his job, the guys found a premises, a bank loan and a brewery manufacturer. Groundwork began on September 1st and North Brewing was launched just 10 weeks later.

Seb launched North Brewing with what is still now a signature of the brewery, 'Transmission', a marriage of West and East Coast styles and a beer that almost had the guys in tears when they first sipped it, knowing they had a winner.

As important as the beers are, attention was also given to the design. James Ockelford, aka 'Refold', a 'North life'-long friend of Christian's, created a logo and started a catalogue of inspirational, award-winning designs that have been emulated many times over by breweries around the world.

Things have got a little bit bigger since then. From the day the brewery was launched there was never enough beer, adding tanks and growing team became a regular occurrence until in 2019 there was nowhere left to grow, the site was at maximum capacity.

in 2021 we opened Springwell
Energised by the incredible hard work and creativity of teams across the bars and brewery as Lockdown 1 was navigated by creating a webshop, a home delivery service and pivoting the bars into bottle shops, and inspired and humbled by the support of customers and community, the guys signed the lease to Springwell. A 21,000 square foot former Victorian Tannery which they converted into a modern brewery and taproom during the pandemic, carefully restoring the building, being mindful of its heritage and creating an incredible workspace and bar.
Springwell.
Pints of our crisp, clean Pils are served in the shadow of the tanks where they were brewed. Friday evenings see us clear the warehouse yard, filling it with beer hall style tables under twinkling festoon lights. Guests arrive as the brew team are finishing up for the week, before being joined by them for well earned Friday evening pints.
Our brewing capacity at Springwell has enabled us to expand our range. We have launched Gluten Free and Alcohol Free beers, brewed international collabs, and developed a cask range made up of modern twists on traditional styles.But what has been built is so much more than a brewery and tap room. It's an events space. A co-working space. A hub in the local community for local independent operators from artists to bakers and urban farmers. We've a running club, we support two local charities for vulnerable people.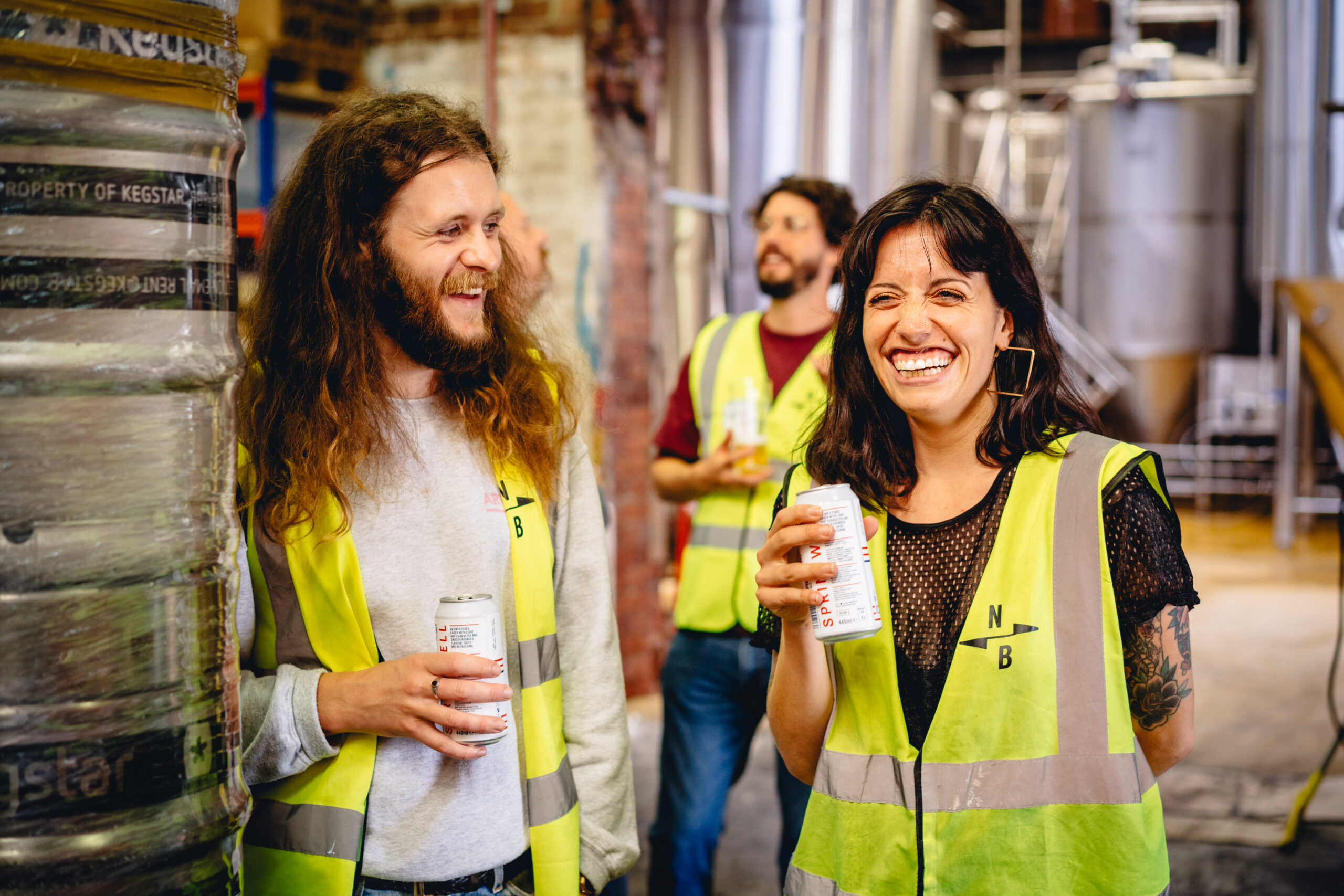 in 2022 we launched Field Recordings
Field Recordings is a new venture into brewing, a place where we take pieces of what we have seen and done, and interpret them into experimental drinks styles.
We barrel age beer, experiment with different strains of yeast, explore the use of locally grown ingredients, looking at historic brewing techniques and seeing how we can translate them into modern styles.
We look at how other fermented drinks are made, applying and blending those techniques into our beers. Who knows, we may even make some wine, cider or mead.
Field Recordings is an opportunity to look back through our entire relationship with beer, the many years we've been involved with it and begin to piece together a collage of what we know and what we're excited to explore. We are creating new beers that represent our interests and passion to the fullest.We release beers from Field Recordings every 4-6 weeks. Sometimes they take a little longer. Sometimes they're ready sooner. It is a learning process, a journey of discovery.

And what's next for North?
What started as a friendship between two student glass collectors in a late night gig venue has grown into a brand with international reach, all down to a focus on their natural focus on hospitality and the community that has flourished. The team here at North don't stop, there is an incredible team spirit, only strengthened by the pandemic. Plans for tap rooms beyond Yorkshire are afoot, with bars in Birmingham and Manchester now open and others to follow, always with people and community in mind.