Drag
North Taproom: Circle Square
TAKEAWAY BEERS
FRESHLY STEAMED BAO BUNS
COCKTAILS ON TAP
OUTDOOR SEATING
5 MINS WALK FROM OXFORD ROAD STATION
A new taproom from North Brewing Co.
Our first taproom in Manchester serves cold beers, perfectly conditioned cask, and Negroni on tap.
Two double fridges look after all your takeaway beer needs, a merchandise shop stocks a range of sustainably sourced clothing, and street food favourites Little Bao Boy are serving their Asian steamed buns from morning till late.
View taplist
GET DIRECTIONS
North Taproom,
Vita East,
Circle Square,
Nobel Way,
Manchester,
M1 7FA
BAR HOURS
Mon – Thurs: 11am – 11:30pm
Fri – Sat: 11am – 12:30am
Sun: 11am – 10pm
Food & Drink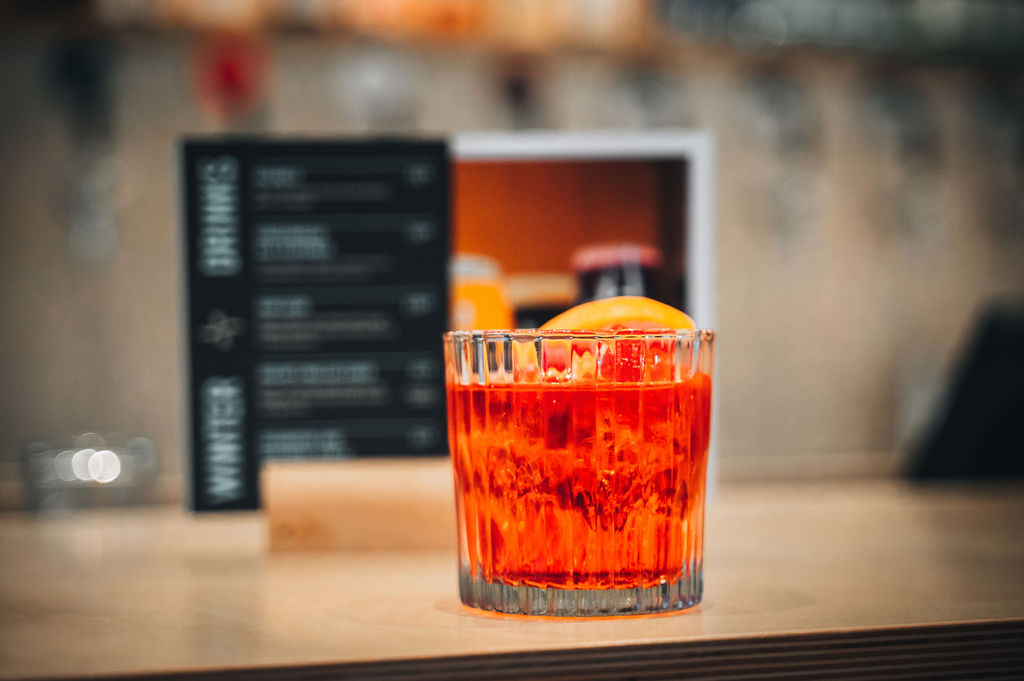 COCKTAILS
We're not just about beer at North! Our small, but perfectly curated, list of wine, spirits and cocktails showcases some of our favourite drinks. We mix our Negroni at the brewery before serving it straight from the taps at Circle Square.
MORE INFORMATION
Wheelchair access
Our taproom at Circle Square is fully accessible for wheelchair users. We have step free access, low-height tables, an accessible toilet and the venue is all on one level.
We also have plenty of outdoor seating at low tables where we can accommodate a wheelchair.
Please ask a member of staff if you need assistance, and feel free to give us a ring before your visit if you have any questions about access.
Anti-discrimination
All North venues are diverse, inclusive,  accepting safe spaces. We welcome all races, genders, ages and sexual orientations. Whilst our toilets at Circle Square are gendered, we encourage you to use the toilets that you feel most comfortable in.
Seating
The majority of our indoor seating is high stools. We also have some lower tables available which may be more comfortable for wheelchair users. Our outdoor seating is a mixture of fixed benches which accommodate 6-8 people, and round tables which accommodate 4 people. The chairs at the round tables have backs.
If you need space for a wheelchair at your table we will ensure that you're seated at a low table with plenty of space.
Please feel free to contact us ahead of your visit if you have any questions about planning your visit.
Table service / menus
We always offer table service inside and outside. Our live taplist is accessible via a QR code printed on your menu. Food and additional drinks are printed on menus on your tables. Our friendly team will be happy to assist if you need any help reading the printed menus, or want advice on the products available. We are happy to provide tasters of any of the drinks on tap.
Lighting / sound
During the daytime the taproom is a light, bright and sunny space. At night we dim the lights and put out candles.
The music at Circle Square is always played at a volume which allows you to hold a conversation comfortably. If you would like to be sat away from the speakers please let us know.
Our busiest periods are between 6pm and 9pm, with weekends being busy all day. We have a mixture of customers – from people grabbing a quick drink after work, to shoppers in the city centre on the weekends.
Any other questions?
Please ask a member of staff if you need assistance at any point during your visit. You are very welcome to phone us ahead of your visit and chat through any questions about accessibility at Circle Square.
Don't worry! We're a brewery taproom with lots of non-beery options! We have a range of wine, fizz and cocktails on tap (try the Spritz on a sunny day!), and a small but perfectly curated spirits selection.
Cider more of your thing? We've got you! Staying off the booze? We have a range of grown up Low and No options, and a selection of Canton Teas and coffee from Darkwoods.
Well behaved dogs are very welcome at our taprooms! The staff will spoil your pooch with water bowls and treats.
Yes! Circle Square has outdoor seating available all year round. We always offer table service, whether you're sat inside or outdoors, so our friendly team will keep you supplied with crisp beers and cold cocktails.